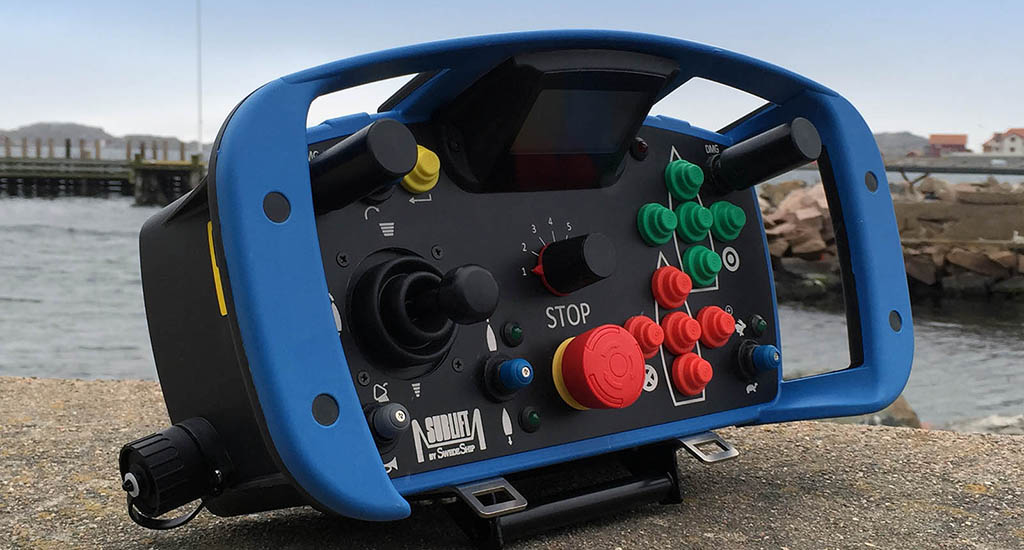 - The safe, compact, self-propelled, submersible boat hoist
SUBLIFT is made for easy and safe dry docking and launching of sailing and motor boats on ramps and slipways. Typical usage is docking for fast service, hull cleaning and of course for winter season storage. SUBLIFT hoists are used by non-professionals at boat clubs as well as by commercial marinas. It is an all in one solution that replaces cranes and transporters giving a low total investment cost.
With the portable wireless control it is easy to move boats from water to cradle and back. SUBLIFT is operated by a single person making it safe to put a boat on its keel blocks, stands or cradle, without any temporary supports or supportive hands. The speed from slow crawling, in "turtle" mode, up to walking pace, in "hare" mode, is steplessly controlled. On the remote control panel both the total weight and the weight distribution is displayed for safe loading and handling.
The frame is of an open U-type that is hydraulically set in width to match different basic requirements. A SUBLIFT can for instance straddle a boat trailer or a truck giving efficient boat handling. It is successfully used at exhibitions arranging boats from trailers to stands and back. The hydraulic lifting arms rotate to individual boat widths. Boats can be picked up and parked individually when they are put in a fish bone pattern maximizing the use of available yard space.
Fixed launching slipways are normally arranged at yards. A temporary ramp can be arranged on a beach using for instance U-shaped steel beams that are normally used for pile sheeting. SUBLIFT can be of assistance for projecting fixed and movable slipways and or bottom conditions for ramps. More information is found under "Slipways".
For more detailed information please see under "Our models".
Upon request hoists are customized.