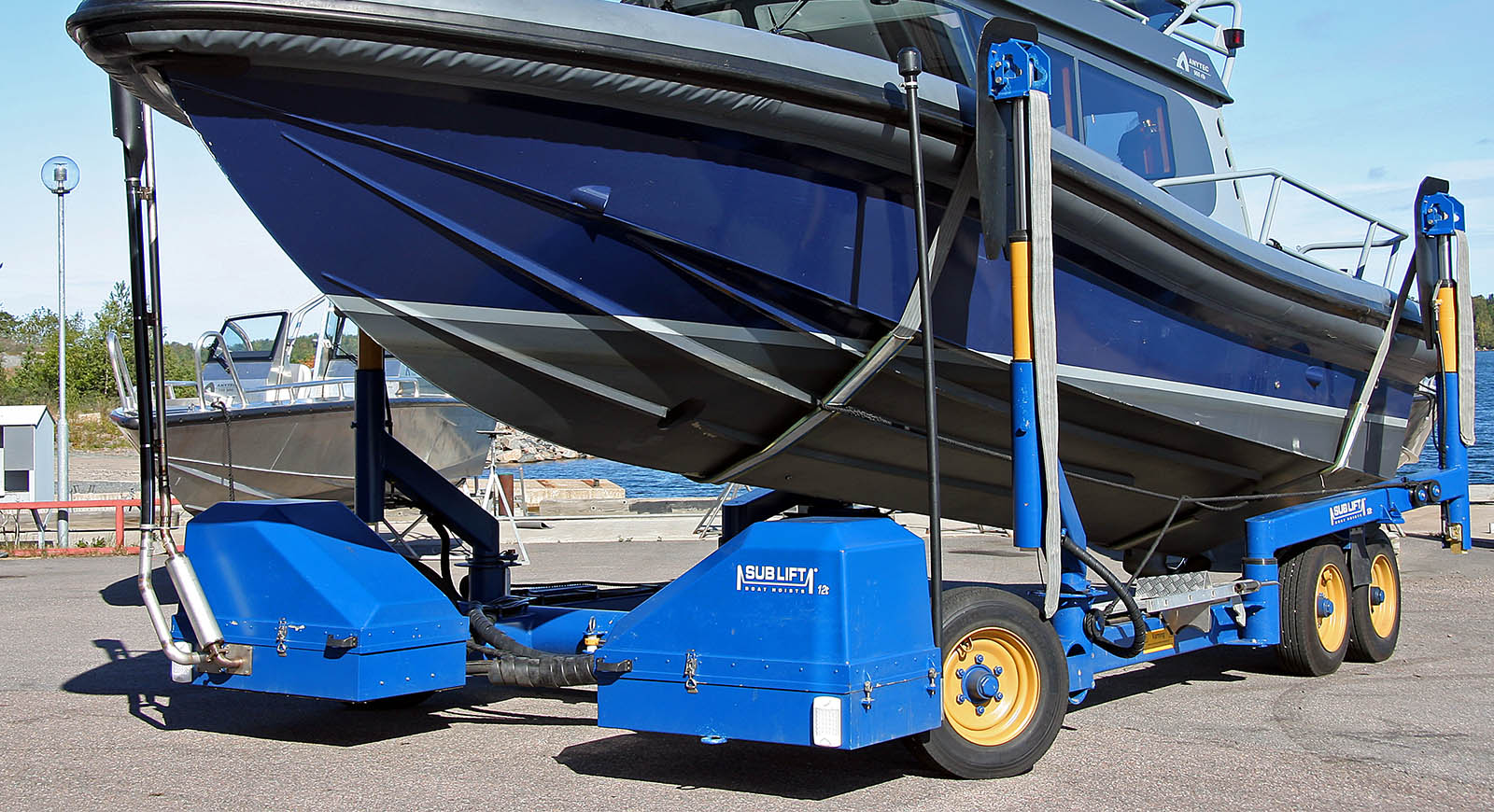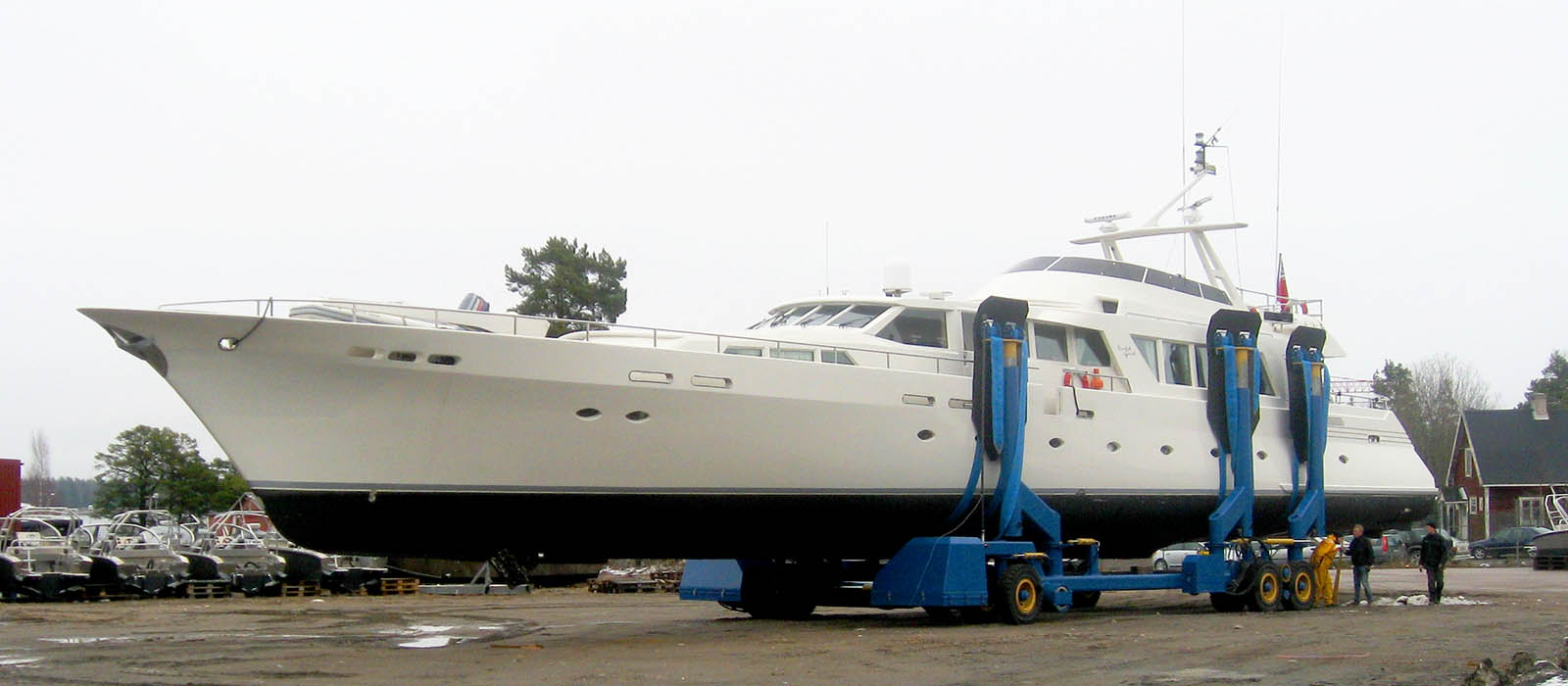 slide2
Our smallest and most popular model in the range. Typical users are marinas and boat clubs.

slide5
The SUBLIFT 90t is the largest model produced by Sublift. It is the choice for the yard that service a larger range of boats.

The safe, compact, self-propelled, submersible boat hoist
The SUBLIFT produced by Swede Ship Sublift AB is a unique patented submersible hoist for effective launching and lifting boats on slipways. Yachts and motorboats are lifted from water to cradle with little effort. The remote control gives full access to all the functions of the hoist. One person easily handles the operation. Typical usage is docking for fast service and hull cleaning and for winter season storage.
A SUBLIFT pays off in two years – download below customer recommendations.
Slide 1
SUBLIFT is an all in one solution, no additional transporter or crane is needed, giving low total investment cost
Slide 1 - copy
Four standard models is offered for 12, 25, 40 and 90 ton maximum boat weight
Slide 1 - copy - copy
The SUBLIFT operates both on land and under water. Engines and electronics is completely submersible
Slide 1 - copy - copy - copy
Motor and sailing boats are lifted without any conversion of the carriage in between lifting
Slide 1 - copy - copy - copy - copy
Sailing boats are lifted easily with the mast on for fast service
Slide 1 - copy - copy - copy - copy - copy
Wireless control including all functions is included. Back-up wire control is available
Slide 1 - copy - copy - copy - copy - copy - copy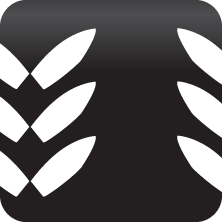 When boats are parked in a fish bone pattern vessels can be picked up and parked individually with SUBLIFT
Slide 1 - copy - copy - copy - copy - copy - copy - copy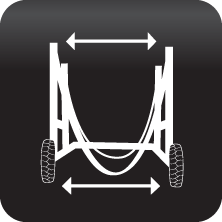 Through the variable width the carriage is adapted to boat widths and can straddle a boat trailers and cradles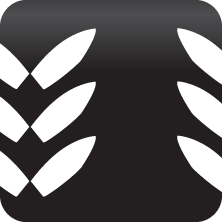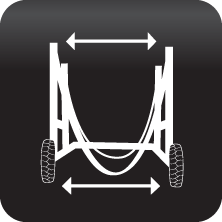 A SUBLIFT is designed for tough conditions and a high safety focus. We are used to high demands.
Choose a SUBLIFT that matches your needs:
Sublifts around the world
Nearly 200 Sublifts have been built since 1990 and all of them are still in operation.
Sublift is used by the Navy in five countries and 10 fishing industry yards use Sublifts regularly.
Find out where to experience a SUBLIFT near you!
Monday nov 8, a Sublift 25 ton was delivered to Fosnavåg Båtservice at Heröy i Norge
09 November 2021, 21:26
Sublift 25 ton to Port Bannatyne Marina, UK Dec – 2020Sublift 12 ton to Ranängen Båtägareförening, Sweden...
30 June 2021, 11:17
Meeting the COVID challenge Nearly 200 Sublift submersible hoists, manufactured by Swede Ship Sublift,...
26 May 2021, 09:27