All in oneSUBLIFT is an all in one solution, no additional transporter or crane is needed, giving low total investment cost
12-90 tonFour standard models is offered for 12, 25, 40 and 90 ton maximum boat weight

SubmersibleThe SUBLIFT operates both on land and under water. Engines and electronics is completely submersible

Motor boatMotor and sailing boats are lifted without any conversion of the carriage in between lifting
Sailing boatSailing boats are lifted easily with the mast on for fast service
Remote controlWireless control including all functions is included. Back-up wire control is available
Fishbone patternWhen boats are parked in a fish bone pattern vessels can be picked up and parked individually with SUBLIFT

Variable widthThrough the variable width the carriage is adapted to boat widths and can straddle a boat trailers and cradles

SUBLIFT 75t
– the safe, compact, self-propelled, submersible boat hoist
The SUBLIFT 75t is under development based on the experiences made on the 65 and 90 ton models. It is the choice for the yard that service a larger range of boats. It is equipped with double slings on three pairs of hydraulically controlled lifting arms that can move axially and rotate to fit boat widths up to 7.6 meters. With all lifting arms movable this is the most flexible hoist. Using two out of three slings smaller boats can be taken. The full capacity is 75 ton.
Product sheet

Technical Specifications
Load capacity 75 ton
Max. Boatwidth 7.6m
SUBLIFT weight 20 ton
Engine Kubota Turbodisel, 74 kW
Corrosion protection Hot-dip galvanized, epoxy + polyurethane coating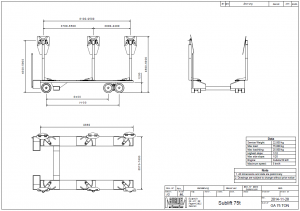 Download SUBLIFT 75t drawing.
Drawings are subject to change without prior notice.